Frequently Asked Questions: New Governance Structure
Below are the answers to some of the questions we expect will be raised about the new governance structure.  We hope they will assist you to understand a little more about the governance changes.
Note that some of the questions you have will not be able to be answered at this time either because they involve decisions by incoming boards or have yet to be clarified by the various working groups. We will keep updating these FAQs as new questions are raised and/or as answers are determined.
What will happen now that the announcement has been made?
Now that the EREA Ltd Board Chair has been appointed, the remaining Directors of the parent Board can be recruited (this is happening now). In time then, this Board will set-up and appoint the subsidiary boards. We envisage this will be completed by the year-end.
How is the membership of the new Board to be decided?
A search firm has been engaged to work with the inaugural nominations committee, which was set up by the External Reference Group. The committee has membership from the External Reference Group, experienced company Directors who have familiarity with Catholic and not-for-profit entities and a nominee of the Catholic Education Commission Victoria. A Board Skills Matrix was developed by the External Reference Group specifically to outline the breadth and depth of skills required for the Board and its subsidiaries, so this will be used as a reference point for recruitment of new Directors.
What impact will this have on Principals and delegations?
The separation of Colleges, Flexis and Victorian schools will see reporting lines changed somewhat, though the day-to-day work of schools should not be materially impacted.
Will the new Board and subsidiary Boards see changes at the National Office level?
Yes, both in relation to our response to the National Office Review and also in our organisational structure we will need to be able to refine our service to provide executive support to the new boards and to implement the delegations and responsibilities that each board requires for effective governance.
Options for how best to shape the National Office, its services and oversight are being developed now. These will be presented to the incoming EREA Ltd Board for their discernment and decision. We have already made some changes to particular roles at the National Office level and are looking to further bolstering our expertise in some areas such as child safeguarding and risk management.
How will we be kept informed of changes as they occur?
The regeneration comms will continue to be disseminated at regular intervals for the remainder of the year. Stakeholder engagement and consultation will be built into existing network meetings when possible and, where necessary, additional sessions scheduled.
How will we ensure the national unity of EREA given the different structures?
Our national gatherings, EREA Charter and Touchstones will not change. We will continue to be one national body, but with segments or different business units operating in partnership. Although it is a Change of Era, we are still inspired by the vision and mission of Blessed Edmund responding to the signs of the times today.
Directors of the EREA Limited Board will be appointed to the sub-boards to ensure consistent governance and strategic direction is managed across the EREA schools.
What are the key elements of the governance structures in the incorporation work?
> The Trustees of Edmund Rice (TEREA) continue to be responsible for land, mission
and Church relationships.
> The Board of EREA Ltd will be the "Parent Board" to which the subsidiary companies will report.
> There are five subsidiary Boards:
EREA Colleges Ltd
EREA Flexible Schools Ltd
EREA New South Wales Colleges Ltd
EREA Victoria Schools Ltd
St Kevin's College Ltd
> There will be some overlap of Directors from the parent entity Board into each of the subsidiary Boards, which should assist with a more consistent governance approach and connections across EREA.
What are the objectives the Council set for this transformation and how does this structure achieve those objectives?
In discernment to arrive at their recommendation about incorporation, the External Reference Group considered that this legal structure:
> is familiar to educational regulators, Church authorities and Education Commissions
> allows the TEREA Council and EREA Ltd Directors to articulate clear expectations and guidance around recruitment, induction, formation, cultural change and accountabilities across diverse ministries
> communicates clearly to the EREA community and regulators that a new and robust governance regime is in place
> provides the ability to establish accountability, support and reporting lines regionally that take into account expectations set by stakeholders in state jurisdictions
> enhances EREA's capacity to have specialist skills, expert governance and commitment to charism at all levels of the organisation
> ensures a dedicated board and senior leader within the EREA Executive with responsibility for Flexible Learning Centres
> achieves economies of scale, wherever possible, for boards, Colleges and Flexible Learning Centres through the national executive.
It appears that an additional layer has been added to the governance structure – the EREA Board. Is this not duplication? What are its responsibilities relative to those of the sub-Boards?
Considering the EREA governance chart below:
> EREA Ltd will be responsible for the Generational Layer, driving strategy and growth, enlivening the mission and ensuring stable stewardship
> Subsidiary boards will be responsible for the Operational and Mandatory layers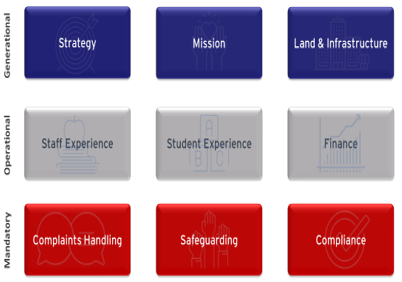 Will each new legal entity be able to establish its own policy/procedure as agreed with its governing authority (its sub-board)?
The reserve powers and delegations are being finalised for each level of governance. The key elements of effective governance normally reflect a high level of uniform compliance around matters of greater risk (to protect everyone in the organisation) alongside a shared understanding of subsidiarity, solidarity, responsiveness and proximity. Strategy, Mission, the Finance and Land and Infrastructure processes will remain aligned across all subsidiaries. Complaints Handling will remain the same across all of the subsidiaries.  Safeguarding will be expressly written to acknowledge different state requirements and best practice the context of each subsidiary.  It is clear that Flexi staff and student experience domains may migrate away from that of Colleges.
Will all schools (Principals) have identical delegations of authority in this structure? Will each subsidiary board have identical delegations?
It is expected that delegations and reporting will be consistent for all the schools/principals within each subsidiary. As noted above, the Flexi school delegations are likely to change over time in areas around student and staff experience (HR).  Compliance domain delegations will be developed to ensure the highest standards of governance appropriate for each subsidiary's context.  Delegations for Strategy, Mission, Finance, and Land and Infrastructure will remain aligned across all subsidiaries.
Is there an agreed and consistent set of board sub committees for each of the 5 Boards?
This is a decision that will be taken by each Board of Directors to ensure effective governance within their specific context. The External Reference Group did develop some guidelines to assist the boards in this discernment. It is expected that there will be only one Land and Infrastructure Committee, led by experts in the field.  This shared approach will enable all Boards to bring a uniform approach and efficiency in decision making relating to Land purchases and Capital works.
What happens next? Do we continue to work with our existing Director of Schools?
Current Directors of Schools will continue to be the point of contact for all questions Principals have about Regeneration. All projects and initiatives where schools are engaging with National Office will continue without change e.g. MO1359 compliance in Victoria, Policy Connect.
A School Engagement Plan will be rolled out from June for a year as we work through these changes and lift our understanding of policies, delegations and reporting. Principals and Business Managers will continue to receive twice per term Regeneration Communication updates which will continue to update on progress towards the Incorporation.  This Communication can be shared more widely within schools and with Regulators, Catholic Education Offices and other interested parties.  Please let us know if you are not included in the distribution lists and we will add you.
For other people, please use your existing contacts within EREA or email the address below.
We expect that the next milestone we broadly communicate will be when the Board and sub-boards have been formed and Delegations of Authority are approved by TEREA.  The agreement and approval of the Delegations will provide greater clarity on the operating model of our new incorporated structure.
For further information contact: regenerationsupport@erea.edu.au