Ice Factor Spectacular – My Heroes!
Usually, you would find these awesome bunch of humans skating their way around the rink smashing pucks but on Friday 29th October they put away their sticks and glammed up for the Ice Factor Spectacular.  The Ice Factor program is not just about learning how to play Ice Hockey, it's about developing teamwork skills and building confidence in their own abilities, both on and off the ice.  The Ice F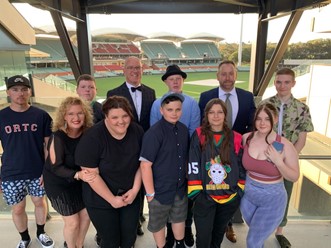 actor Spectacular allows our students to demonstrate the confidence and resilience they have built up through participation in the program and to have the opportunity to 'be a hero, just for one day'.
The Flexi Chiefs, Edmund Rice Flexi School's inaugural team, joined around 200 other Ice Factor students at the Adelaide Oval where they strutted their stuff on the catwalk in the Magarey Room in front of over 400 glamorous guests, including the Premier, Mr Stephen Marshall and Governor General, Ms Frances Adamson.  The students spent the day rehearsing their routines and finalising their fittings, getting hair and makeup done, also enjoying the downtime with some Uno, team banter, and plenty of food as we enjoyed the view of the Adelaide Oval through the large windows.  Cheyenne and Lauchlan represented the Flexi Chiefs with pride as they wore their jerseys during the Opening number. Students then followed through with outstanding choreography as they showcased clothing from some amazing local designers.  Some of the clothing companies worn by the Flexi Chiefs included Ms Gladys Sym Choon (Connor, Cameron, Lauchlan & Noah), ORTC (Charlee), Ryderwear (Mikaylah), Elle & Elka (Bianca), and Showies (Cheyenne).  The event concluded with every student moving across the stage with an overwhelming cheer from the whole crowd.  It was great to have our Head of Campus, Dani Stratford and our Network Principal, Gerard Keating attend the event and support our young people on such a special occasion.
I would like to thank Gary Day for his support throughout the whole day.  We left work at 8:30am to pick up students and arrived back to pick up our cars at 11:30pm after dropping students home.  Without this support, the day would not have been as successful as it was.  But the biggest shoutout needs to go to our Flexi Chiefs.  I can not put into words how proud I was, and continue to be, of these inspiring and resilient young people.  It was an extremely long day, and they all just took it in their stride and showed what remarkable young people they are.  You really are my heroes!
Toby Noble
Flexi Chiefs Team Manager