St. Joseph's Nudgee College Tree Planting Immersion 2020
The annual St. Joseph's Nudgee College Year 10 Immersion took place on campus this year and was focused on the theme of sustainability. The vision was to engage the entire Year 10 Cohort in a revegetation program adjacent to the Nudgee College Conservation Park. This area is dominated by several habitats including Eucalyptus woodlands, intertidal mangroves as well as saltmarsh flood plains. This wetland system provides eco-services for the greater community including providing habitat for native wildlife, flood management as well as representing a significant carbon sink for the Brisbane region. The task at hand was to plant 2200 natives trees, transforming previously cleared land into a legacy forest.
Over 250 members of the Nudgee community contributed their time across three days of tree planting, making this the College's largest sustainability event to date. With Staff supervising, students worked all day in groups of four. Each student had a specific task including planting, mulching, tree staking and watering. Despite the constricted time period, all trees were planted before the end of day three.
Students and Teachers were interviewed regarding their experience. Here are some of their reflections:
Q: Why are you doing this project?
Student A: "Some trees have been cleared on campus to make room for more sporting fields. As a result, we have to plant seven native trees to every tree that was removed."
Student B: "We are revegetating land that was cleared a long time ago by the Christian Brothers that was used for farming."
Student C: "Expanding the conservation area."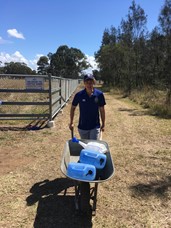 Student D: "Due to COVID-19, we weren't able to travel to distant locations to assist other communities. So, instead we have looked to our own school environment and tried to make a difference to our local community."
Teacher A: "We are trying to give these students an opportunity to make a difference despite the challenges of COVID-19. And the results are speaking for themselves!"
Q: What are you enjoying about the experience?
Student A: "It's great to be able to help our community as well as spending time with our mates in a paddock."
Student B: "I love the team work aspect of the program. It's a lot of fun planting trees with friends. And I also like getting my hands a little dirty!"
Student C: "I can't wait for the trees to grow. I can see myself coming back when the trees are taller and sharing it with my family. Leaving a legacy like this is really cool."
Student D:  "When I leave school and come back to watch Rugby, it will be great to see results from our hard work."
Teacher A:  "It's fantastic to see the boys enjoying the time together outside the classroom and actually making a difference by planting all of these trees."
Q: What have been some challenges?
Student A: "I never realised how difficult it is to get water to these trees. Even though we have lots of water, getting it to the new trees requires a lot of effort especially carrying the heavy water containers!"
Student B: "I'm finding it difficult to work with my friends. I thought that it would be easier with your best mates but that hasn't really worked out."
Student C: "I'm finding the work really hard and really hot. The wheelbarrows filled with mulch are heavy and then we have to walk a really long distance."
Q: What have you learnt from this Immersion experience?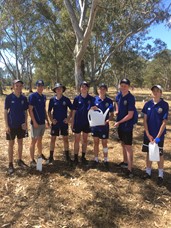 Student A: "With climate change being a real issue today, it is important that we are putting what we are taught into action. We know that trees create oxygen and that they provide us with a natural carbon sink. And we also know that a healthy ecosystem means a healthier world for us."
Student B: "I think that we are doing the community a service because there are a lot of people but not many places to plant trees. Also, some of the people in our community can't afford to buy the materials needed for these large projects."
Student C: "I'm learning that although we have cleared land in the past, we can recover it through revegetation. Although we won't see the results tomorrow, it will always be here in the future."
Student D: "I can't believe how many trees we've planted in such a little time! It goes to show that if there are many people helping, we can achieve anything."