FAME FLS Youth Recognition Awards

Five young people from FAME Flexible Learning School recently received the Youth Recognition Award for being valuable members of their local community. This award, presented by the Onkaparinga Youth Council, acknowledged them for their unique perspectives, talents and vibrancy which contributed to the region as a whole. The two categories that FAME's young people won were to celebrate and honour their Learning Success and Personal Achievement.
Award winners:
Onkaparinga Learning Success Award
O'Shae Ellison- Lindsay is a young man who has wholeheartedly committed himself to his education. He has become a valuable member of the FAME family and an absolute delight to his teachers and peers. O'Shea has demonstrated resilience and determination in pursuing his education whilst overcoming significant difficulties. Each day, O'Shae comes to school with a smile on his face, engages with staff, and is always kind to his peers. He is a year 12 student, a role model for other Kaurna young people, and a student who has a very bright future. O'Shae has been busily constructing rustic clocks through his work ventures course; he has already sold a number of them and taking orders!
Krystal Icke's educational progress since enrolling at FAME has been a real success story. Krystal faced difficulties in mainstream education, and when she started at FAME she was as an unassuming young woman. She blossomed in her new educational environment, created new goals for herself and threw herself into her studies. Krystal was a committed member of the volunteer group at FAME and contributed to money being raised for the homeless at Hutt Street Centre in Adelaide. Krystal has shown great dedication to her education; she received the FAME Award for Academic Excellence. She enrolled in the Foundation course at Flinders University.
Onkaparinga Personal Achievement Award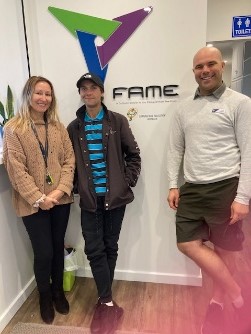 Tyeson Buder in the face of severe adversity, completed year 12 last year. He overcame significant personal struggles to become a courageous and respectful person in our community. Tyeson is a very gifted rapper a talent that flourished when he started attending the music class at FAME. Tyeson received the FAME Award for Strength and Courage. He is presently working full time and living a very productive life.
Kaycee Kraft experienced much adversity when she started at FAME but her character and willingness to challenge her fears made her excel. Kc became one of FAME's most diligent young people who sought to really live up the schools four principles of honesty, respect, participation and safe & legal. Kaycee also was an active member of FAME's volunteering group. In recognition of Kaycee's incredible development, she received the received the FAME award for Enthusiasm and Dedication. Kaycee currently is running her own cleaning business; FAME FLC is  one of her clients!
Makayla Webster joined FAME many years ago when she was 13 years old and FAME was a small program run by the Christian Brothers. Despite some very tough circumstance and very challenging times Makayla demonstrated a great deal of persistence in pursing her education. While at FAME she grew into a talented singer and a very significant member of the music team which performed regularly at school and community gigs. Makayla received our FAME Award for Persistence and Perseverance.